The new TRC/TRP (terminated parental rights codes) displays an 'insufficient security clearance' message when we try to use them.
In order to use the TRC/TRP codes, the court administrator must first grant access to the appropriate court staff members from the Authorization Overrides (ATHX) screen.
Go to the ATHX screen for the court user record to be modified.
Change the Authorization Type option from screen (S) to family relations (F) and press <ENTER>.
Locate the the TRC and TRP codes in the list of relationships; add a U for update authority or D for display authority in the override (Ovr) field and press <ENTER>.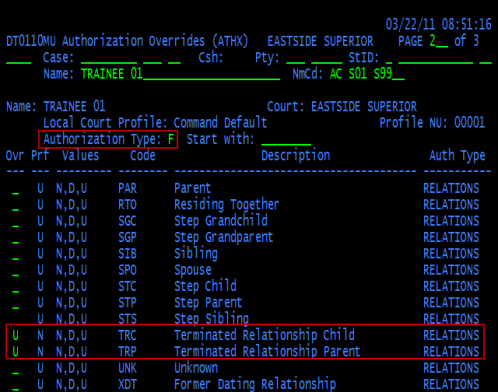 For questions, please use eService Center and select Topics: Computer/Printer/Security/Access. Type your request in the Question Data area and click Submit to AOC.
See also: Procedure When Parental Rights are Terminated
RN id: 1237