What will change in JABS related to King County District Court's New eCourt System?
Beginning November 2, 2020 King County District Court (KCDC) will no longer enter data into JIS. KCDC and AOC will implement a data exchange with the Enterprise Data Repository (EDR). JABS will retrieve data from the EDR to display a statewide view of case and person information. In some instances, KCDC information will display differently.
See below for information on how KCDC data will display in JABS.
eTicket images for all KCD courts will not display in JABS.
Data that does not match a statewide standard value will appear in green test.

KCDC docket entries created in JIS prior to 11/2/2020 will be viewable in JABS at a future date. Users must contact the originating court (KCDC) to obtain docket information. Information might be available in the KCDC portal at: https://kcdc-efiling.kingcounty.gov/ecourt/


New version of the

Plea and Sentence (PLS)

tab for KCDC data.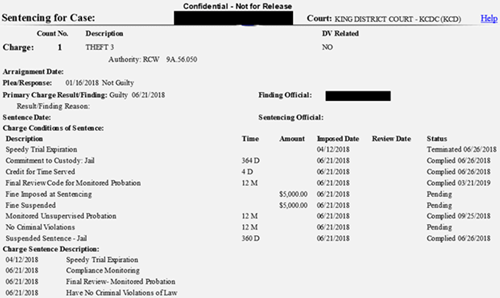 King County person records will be matched to JIS and Odyssey person records through the EDR

Person Matching

process.
In order to provide statewide case and referral history, person data from different case management systems is stored within the Enterprise Data Repository (EDR). A process called
Person Matching
evaluates the person data to determine new matches as well as maintain the person matches or associations created within a case management system. When a person match exists, the case, referral, and person data is consolidated for viewing in JABS.
Some case and person data may take up to 24 hours to become available since the data is sent nightly to the EDR.
Questions about the King County District Court case management system should be directed to the King County District Court at:
kcdcefilinghelp@kingcounty.gov
RN id: 2537