How is the DCXT process changed with implementation of ITG 62?
AOC has completed IT Governance (ITG) Request 62, endorsed by the DMCMA, to automatically update the County Department Cross Reference (DCXT) tables for courts when a legislative or State Auditorâs mandate requires a new BARS code for Courts of Limited Jurisidction. Many BARS codes split into subaccounts and have Remittance BARS codes required for monies to be applied accurately during the end-of-month remittance process. The DCXT associates these BARS codes with specific subaccounts and applicable remittance BARS codes. Historically each court had to set these up manually. The new process populates these fields automatically for courts.
Clerks Action Required
:
Courts need to review existing DCXT entries for accuracy prior to future BARS codes being implemented. Any errors discovered can be updated by using the Change action on the DCXT screen. Use the
DCXT worksheet
to confirm the following information is current and correct for each BARS: each subaccount, local county department codes and remittance BARS.
Effective July 1, 2020, the following updates will be made to the DCXT process when new BARS codes are implemented:
New BARS codes will be automatically added to every active jurisdiction within a court (any jurisdiction code not end-dated on the Official/Organization (OFO) screen).
Each Subaccount for a BARS code will be added.
For each applicable subaccount, the Remittance BARS codes will be added (some subaccounts do not have remittance BARS).
Subaccount 20 has a unique BARS code depending if the jurisdiction is County (341.98.01) or City (386.12.00). The automated process will use the last Remittance BARS code entered on a jurisdiction to populate the Remittance BARS code for Subaccount 20 on a new BARS code.

Clerks Action Required: Review most recently added BARS code with subaccount 20 for accuracy (386.89.25). Confirm the BARS code has been added to the active jurisdiction(s) and the remittance BARS is correct. See January 1, 2020, Release Note for more information.

Local County Department Codes will

not

be automatically populated, but the field is no longer required. Courts will continue to be responsible to input local codes, but the field is no longer required when making a change.
Users can still Inquire, Add, and Change fields on the DCXT screen.
In Summary, for future BARS codes, courts will only be required to Change a BARS code to add local County Department codes for DCXT entries. All other fields will be automatically populated.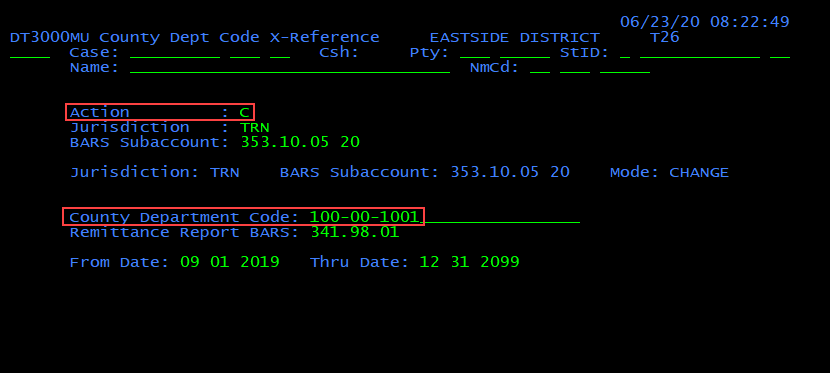 RN id: 2532