Is Flash Needed for Chrome Browser?

If you log on the new Portal, and start a filing (just put in any case for testing purposes). When you scroll down on the page to the Upload Files section there should be an upload box. See example 1 below for how it should look.
If the upload box does not display and instead you see a message telling you to Click here to Enable Flash, then start by clicking on that link. You should get a message asking to confirm that you want to allow Flash, just click to confirm. If all goes well the Upload box should appear.
If there are problems, then please try following the instructions at https://helpx.adobe.com/flash-player/kb/enabling-flash-player-chrome.html (if you are running Windows, be sure to click the Windows link on the right).
Example 1: How the Flash Upload Form should look:
Example 2: If the Flash Player is not Enabled, the eFiling upload page may look like this: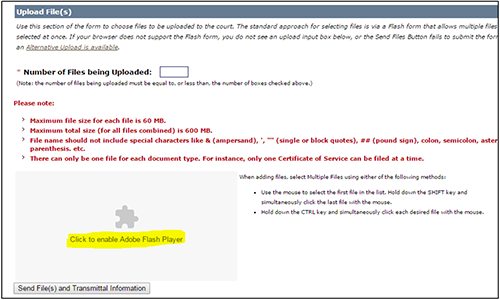 RN id: 2475