How can I create and submit an eService Incident?
To create an eService Incident, you will first want to log in to Inside Courts at https://inside.courts.wa.gov/ using your RACF ID.


After logging in, click the

eService Center

on the top left of the page, below the Washington Courts logo.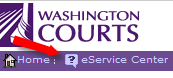 On eService page, click the

Ask a Question

tab and enter your RACF ID and click

Login

.


This will take you to the

Submit Your Question

page. Select the

Topic Number

you need. For computer or password issues, choose Topic 1. For all other issues, choose Topic 9.


In the

Question Box

, explain what the issue is. On the first line, enter a brief description. For example, if your issue is with your ETP, just enter ETP on the first line in the question box. Then hit

<Return>

and explain in further detail the problem. This helps route your incident quicker to the correct person.




If you are receiving an error message and have an attachment to submit, please use the

Attach Documents

tool to submit with your request.


Click

Submit to AOC

.






After you submit your Incident, it will be sent to AOC Customer Services Line 1. They will then send your Incident to the proper area for resolution.





A step by step guide to creating and submitting an eService Incident is attached and can be printed for your convenience.






RN id: 2386