What can be seen on the LFO Report (SC)?
The Legal Financial Obligations (LFO) Report (Superior Court) allows the superior courts to extract cases where the Accounts Receivable (AR) total or obligor address has changed, or to extract all open ARs. The report can then be used to update external systems that are used by counties for collection notices and reports. The LFO Report (SC) is available in the Accounting folder in BIT. (Image 1)
Image 1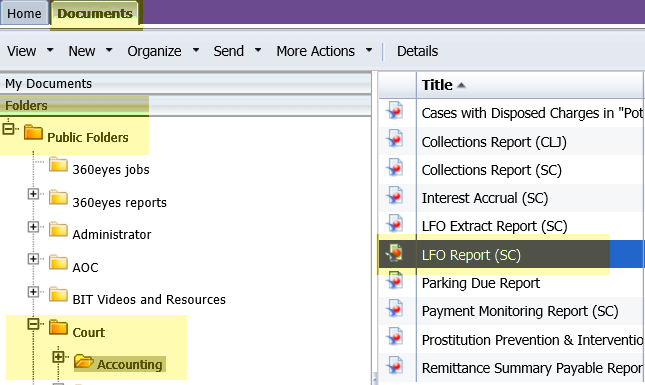 To run the report, double-click on the report title. When the report opens, it prompts for the entry of information. There is only one mandatory prompt entry in this report. (Image 2)
Required data prompt:
Image 2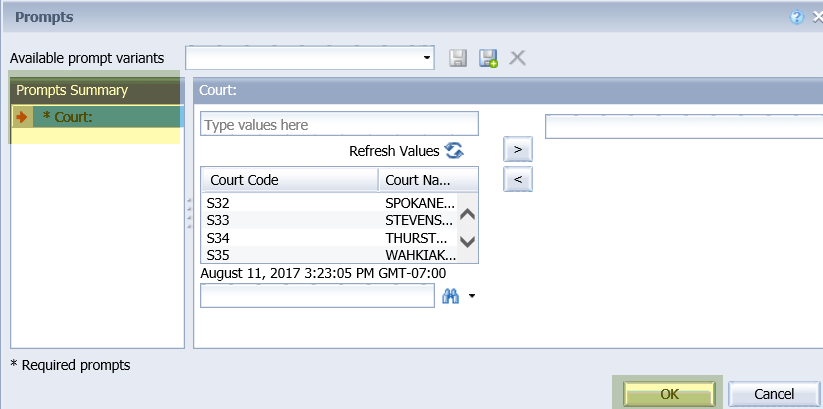 When the report displays there is only one tab; LFO Information. (Image 3)
Image 3

The LFO Information tab displays the following data:
Case Number

Obligor Name

JIS Name Code (NmCd)

Address Last Changed

Address

City
State
Zip Code
Last Payment Date
Ordered Amount
Adjustment Amount
Interest Amount
Paid to Date Amount
Current AR Balance
Last AR Change Date
Both the Case Number and Obligor Name will be listed as a hyperlink on the LFO Information tab. Double clicking on a hyperlink will run another report to display details about that case or person's obligations. Click the name to run the Obligor Detail report. Click the case number to see the Obligation Detail report. View the related eService Answers BIT Report Obligor Detail and BIT Report Obligation Detail for the details of what will appear on those reports. This is a new report for the Superior Courts. It can be scheduled to run on a regular basis to provide updates after the original extract is done.
See also eService Answers:
RN id: 2327