What can be seen on the Case with Disposed Charges in "Potential" Status (CLJ) report?
The Cases with Disposed Charge in "Potential" Status (CLJ) report lists cases that have fines or condition-related costs listed on the Plea/Sentence (PLS) screen, but have ARs that have not been billed, or are still in a "Potential" status when the Create A/R (CAR) screen is viewed. The Cases with Disposed Charges in "Potential" Status (CLJ) report is available in the Accounting folder in BIT. (Image 1)
Image 1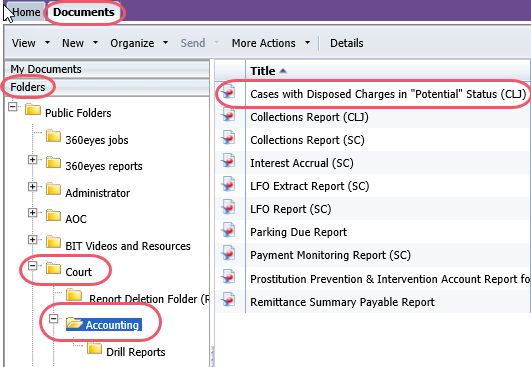 To run the report, double-click on the report title. A pop-up displays requiring a selection for Query Context. (Image 2) Select the most appropriate option or more and select the OK button at the bottom of the box.
Image 2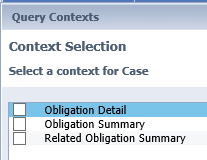 The query then prompts for the entry of information to run the report. The prompts include a mandatory prompt (court code) and several optional entry items. (Image 3)
Required data prompts:
Optional data prompts:
Jurisdiction Initials

Case Type Code(s)

Charge Disposition Date Range

Active Warrants

Active FTAs

Case Disposition Flag
Image 3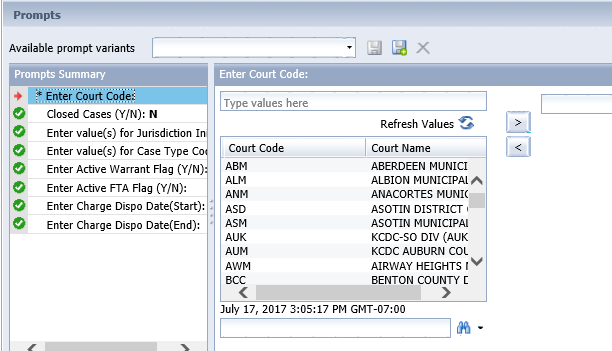 When the report displays the data will be sorted in one of three formats depending on the tab that is being viewed. (Image 4) The sort options are by:
1. Case Number
2. Obligor Name
3. Charge Disposition Date
Image 4



Regardless of the sort order, the report displays the following data:
Case Number

Jurisdiction

Obligor Name

Charge Disposition Date

Imposed Charges Amount
Imposed Conditions Amount
Case Disposition Code
Case Disposition Date
Warrant Flag (WRT)
FTA Flag (FTA)
Note:

The warrant and FTA "flag" fields will remain blank if there is not an active warrant or FTA. A "Y" will appear in those fields if an active warrant or FTA exists.
The Obligor Name will be listed as a hyperlink on all tabs. Clicking on a hyperlink will run another report to display details about that person's obligations. View the related eService Answer BIT Report Obligor Detail for the details of what will appear on that report.
To export the reports, select the Export icon (Image 5) and choose which of the reports (or all) to save as Excel or PDF.
Image 5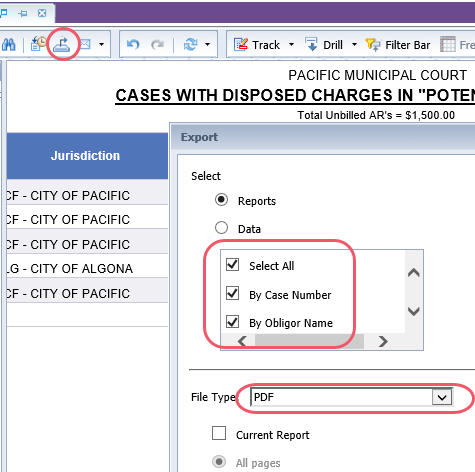 RN id: 2252