How does ITG Request 059 - Highlight Case in JABS When Doing a Case Number Search affect the Case Number search function in JABS?
The Judicial Access Browser System (JABS) provides two ways to search for a case: (1) Person Search and (2) Case Search.
After a Person Search is performed, selecting the person record displays the Individual Case History (ICH) screen with all cases available for that person in JIS. The newest case in the list is selected and the case details are listed on the bottom frame. Prior to the ITG change request, the Case Number search also displayed the ICH record and selected the newest case in the ICH screen, instead of the case number used in the search. For defendants with lengthy case histories, it could be difficult to then locate the case number utilized in the search.
The DMCJA submitted a request (ITG 059) through the IT Governance process to modify the Case Number search function in JABS. The request was to change the displayed results when performing a case number search, so the case number used in the search process is highlighted and selected in the displayed ICH results. Having the case selected in the ICH frame would cause the case details to display in the bottom frame, which would allow for quick review of the case number being used in the search process.
The request, ITG Request 059 was approved and the change will be released on June 28, 2011.
Image 1 - Case Number Search results for case number 1Z0013300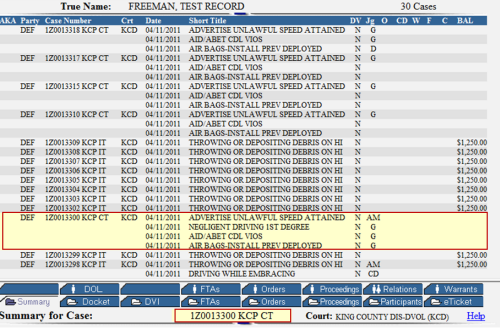 RN id: 2212