Is there a list of shortcut keys for use in SCOMIS?
Yes, a number of short cuts are available for use within SCOMIS. This answer contains a list of SCOMIS Shortcut Keys, instructions on using the LINK command, and a helpful shortcut for use when preparing a calendar.
Below is a list of SCOMIS Keyboard Shortcut keys



Key






Action






Valid On



F3



Inserts blank line above the line in which the cursor is currently

positioned (regardless of where in the line the cursor is).




NOTE: At the ? in the lower left of the screen, enter the number of blank lines you wish to insert. On the Prepare Calendar function, F3 defaults to 6 blank lines.

On all other screens, the default is 1 line.



Names

Docket

Charge

Sentence

Prepare calendar



*






Uses current date.



Any date field
' or "
Copies date from previous entry.
Any date field
' or "
Copies codes from previous entry.
Docket
' or "
Copies RCW from previous entry.
Charge
'
Fills in the code ACTION when used on a Docket Continuation line.
Docket
=
Uses default date
Any date field
PF9
Prepares multiple calendars.
Prepare Calendar
#
Sends calendar to print (no display, no save).
Prepare Calendar when in multiple calendar mode
PF5
Skips to next calendar.
Prepare Calendar

Display Calendar
All PF Keys
Various functions.
Listed at the bottom of the screens for which they are valid.
Use the LINK Command to quickly access SCOMIS Screens:
At the Command prompt type LINK.
At the Section prompt type any of the SCOMIS Screen Keys listed below.
Press <Enter>.
The first screen in the sequence of Keys in the Section field appears; make any necessary changes. Press <Enter> to continue to the second screen in the sequence of keys. The Key codes can be used in any sequence and can be repeated if necessary.
For example: Entering LINK in the Command prompt and entering BNDCSA at the Section prompt displays the following screens in sequence:
B asic
N ames
D ocket
C harge
S entence
A rchive
The following is a list of the available Key codes in SCOMIS:
| | |
| --- | --- |
| Key | Automatic Display Sequence |
| B | CHANGE BASIC |
| N | CHANGE NAMES |
| D | CHANGE DOCKET |
| S | CHANGE SENTENCE |
| C | CHANGE CHARGE |
| T | CHANGE TRACK |
| E | CHANGE EVENT |
| A | CHANGE ARCHIVE |
| M | MOVE NAME |
| P | CHANGE CONNECTION |
| X | AMEND SCHEDULE |
To view the SCOMIS Calendar Codes applicable to your court, type SHOW in the Subdocket Field at the bottom left of the Prepare Calendar Screen, and press <Enter>.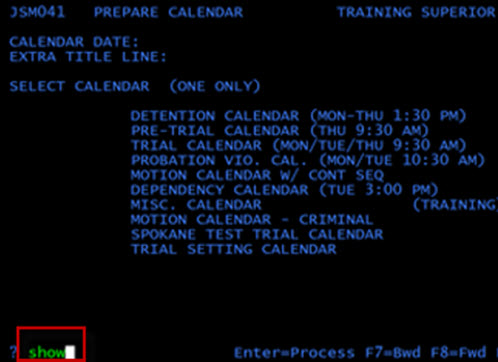 The Calendar Codes will appear at the left of each Calendar on the screen.
For more information about data entry in SCOMIS, see the Special SCOMIS Instructions and the SCOMIS Commands sections of the Online Manual.
RN id: 1592